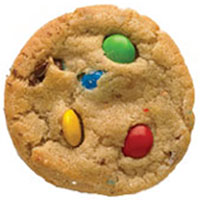 What do you do with the 3 lb. bag of M&M's your Dad bought at Costco and left at your house? Make M&M cookies. Thanks Dad!
makes 3 dozen
preheat oven to 375.
whisk together thoroughly:
1 c. plus 2 T. flour
1/2 t. baking soda
beat on medium speed until very fluffy and well blended:
1 stick butter
1/2 c. sugar
1/2 c. brown sugar
add and beat until well combined:
1 large egg
1/4 t. salt
1 1/2 t. vanilla
stir the flour mixture into the butter mixture until well blended and smooth. stir in:
1+ c. M&Ms
Drop heaping teaspoonfuls onto the sheets. Bake 8-10 minutes.